"Sometimes I think I write children's stories because there is a permanent eight-year-old in my head.  I remember being eight and it was both very exciting and very painful.  Before I was eight I wasn't quite myself and then I was.  I think too that I must be a bit of what my mother used to call 'a flibbertigibbet' because I don't really like sticking to one kind of writing.  I like writing for different ages and I like the mix of poetry and prose.  I love music so I really enjoyed writing a new version of the Pied Piper of Hamlyn (the composer wasn't keen on Browning's version – lucky me!)
I'm quite excited about my next book, Whoever You Are (Hodder Children's Books) because I think I've put a lot of me into it and I hope it's a good story.  I've a picture book coming too, You Can't Kiss a Crocodile.  The idea for this came from Freya, one of my three grandchildren.  I'm a very happy granny."
Diana Hendry has worked as a newspaper reporter, a teacher in a boys' school, and a tutor at university.  For a year she was writer-in-residence at Dumfries & Galloway Royal Infirmary.  From 2008-10 she was a Royal Literary Fund Fellow at Edinburgh University and from from 2015-2017 she was co-editor of New Writing Scotland. Diana regularly tutors a group of teenagers, winners of the Pushkin Prizes creative writing awards, at Moniack Mhor  and often visits schools and festivals to give talks, workshops or readings.
Diana has written more than forty books for children ranging from picture books to young adult novels.  She won a Whitbread Award (now the Costa) for her junior novel Harvey Angell which she also adapted into a radio play and which has been translated into many languages.  A sequel, Harvey Angell Beats Time won a Scottish Arts Council Book Award.  More recently, her young adult novel The Seeing was short-listed for a Costa Award (2012). Of her picture books, The Very Noisy Night and The Very Snowy Christmas have both been adapted as stage plays by Blunderbus Theatre Company.
Diana also writes poetry for both children and adults. A new and sixth collection for adults is due out this autumn from Worple Press. Her adult short story collection, My Father As an Ant was published in 2017.  She has written the libretto for a new composition by John G. Mortimer of The Pied Piper of Hamlyn which was performed in Switzerland.
Diana's current work concerns the Coggins family, a rather crazy family who live in an even crazier house – 'Dizzy Perch', a house set high up on the cliffs above the sea. A first book about the family, Out of the Clouds was published in 2016 and a sequel, Whoever You Are is due out from Hodder books this year (2018).
A selection of Diana's books: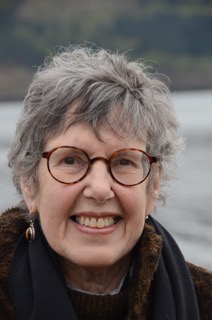 Contact Information