Three of our illustrators had artwork featured on the BBC website – commissions to accompany short stories for children.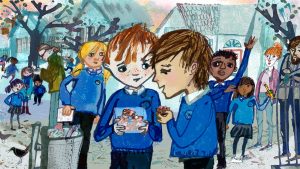 Jill Calder's illustration is the perfect accompaniment to How to be Harry's Friend, a gentle story by Ali Taylor about a boy struggling to think of a good way to support Harry, whose mum has died. It's read by Gavin Mitchell and you can listen to it here.
Anders Frang illustrated Jordan's New Sister a lively story by Linda McLaughlin, read by Clare Grogan – yes, the Clare Grogan – about blended families, rivalries and kindness. You can listen to it here.
Kasia Matyjaszek is already well known for her piratical picture books – Molly Rogers to the Rescue and Molly Rogers Pirate Girl (published by Barrington Stoke) – so was clearly the go-to illustrator for The Parrot who Lost His Pirate, a story by Brian McIver narrated by Sanjeev Kohli which shows what happens when a pirate and his parrot can't agree. You can listen to it here.