It's 10 years today since Lari Don's first novel – First Aid for Fairies and Other Fabled Beasts – hit the shelves in bookshops and libraries.
Here it is in its various incarnations –
.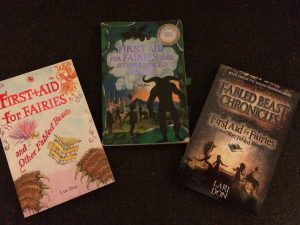 Since then, she's written many more novels – including the other three that followed the characters in that first book, creating The Fabled Beasts Chronicles. You can read a blog she's written about this milestone here.
Top marks to Floris Books for spotting that early talent, and top marks to them too for having moved with the times in terms of jackets.
All Lari's books are available from bookshops and libraries throughout the UK. You'll find information about them – picture books, novels and retellings – here.