Yesterday we had the great news that L J MacWhirter, author of the captivating Black Snow Falling which will be published this summer by Scotland Street Press, has been accepted for registration with the Live Literature Scheme (LLS) run by Scottish Book Trust.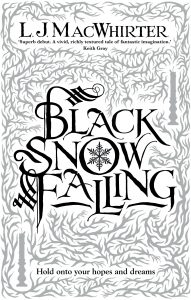 What's the Live Literature Scheme, we hear you cry?
It's a means by which schools, libraries and other organisations can receive financial support to invite an author and/or illustrator to come and give a talk, a workshop, a reading – anything book-related that the author offers on their listing on the scheme. The inviting organisation pays half the author's fee (currently £175 plus VAT), while LLS pays the other half, plus all the attendant costs – travel, accommodation etc. It's a way to ensure that writers are properly paid, and a way to ensure that it's no more expensive to invite an author to visit a school in Shetland than it is if the school is just down the road from the author. There's more information about how and when to apply for funding here.
The Scheme is currently limited to writers and organisations based in Scotland, and of course you'll find many Fraser Ross Associates authors and illustrators on the list here. L J MacWhirter's details will be posted soon.
Although applications for general funding are not being accepted at the moment, LLS is offering funding packages for schools planning to establish writers' residences in schools – and the deadline for that is 23rd May 2018. It's a fantastic opportunity for pupils – and their teachers.
Find out more here.