The second in Chris Higgins' brilliant and hilarious series about friends, Bella and Magda, is now out, published by Bloomsbury.
Trouble at School is a fantastic follow-up to Trouble Next Door in which Bella first met Magda – quickly establishing a brilliant, if trouble-prone, friendship.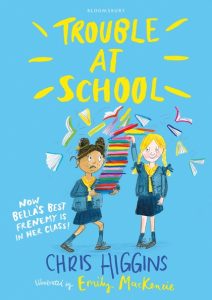 As the LiteratureWorks reviewer noted of Trouble Next Door, 'The novel celebrates the joy of childhood and the idea of friendship…' They are ideal for 5 to 9 year-olds. Chris loves writing these stories, and shamelessly looks to her many gorgeous grandchildren for inspiration.
The Trouble series is illustrated by Emily Mackenzie.
And if you enjoyed the Trouble stories, make sure you read Chris's My Funny Family series, published by Hodder Children's Books with illustrations by Lee Wildish.