If you're looking for the perfect read to tie in with this particular time of year, look no further than First Aid for Fairies and Other Fabled Beasts by Lari Don.
It's set at the Winter Solstice…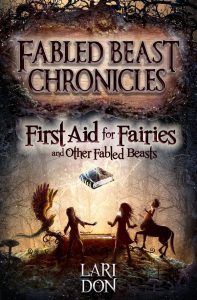 Lari says of this, her debut novel, 'This was the first children's book I ever wrote, and I wanted to use all the elements I love from adventure stories and fairy tales, but set it in the Scotland I know now. So there are dragons and monsters, spells and riddles, but also violin rehearsals, packed lunches, and a mum who expects the heroine to go to bed at a sensible time.'
First Aid for Fairies is the first in the Fabled Beast Chronicles quartet and introduces a cast of unforgettable characters who populate the entire series.
It won the Royal Mail Book Award in 2009, when it was first published by Floris Kelpies.
First Aid for Fairies and Other Fabled Beasts is available in all good bookshops and libraries, or on-line here.