The Authorfy website is full of great resources for young writers – and for teachers, librarians, parents and guardians.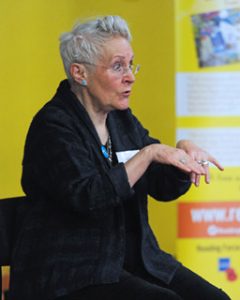 Vivian French – whose latest novel, The Runaways of Haddington Hall was published yesterday by Walker Books – is the queen of fabulous names. Her novels are full of them! In this Authorfy video, she sets a challenge to young writers (also, not so young writers!) to come up with great names to go with characters you may go on to write about.
Go for it! And if you need some inspiration, you'll find it in Vivian's novels – you'll find a small selection below.
Here's the link to Viv's video – along with challenges from lots of other authors too. Scroll down until you reach V for Vivian.
https://authorfy.com/10minutechallenges/