Lottie Luna and the Bloom Garden is the first in a new series of books for newly fluent readers by Vivian French, with illustrations by Nathan Reed.
And excellent news is that the second Lottie Luna book will be out and about early next year – HURRAH!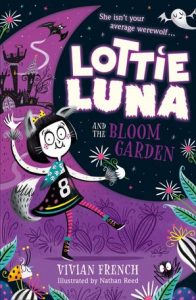 Lottie Luna is a typical Vivian French heroine – she's got attitude, she knows right from wrong and she wants things sorted out!
Oh yes – and she just happens to be a werewolf with X-Ray vision…
And again, typical of all Viv's books, Lottie Luna and the Bloom Garden is a wonderful read-aloud.
The publisher, HarperCollins is offering 5 free copies via the World Book Day website – click here to find out how to claim them (and do so before 31st October…).
They're also offering a range of activity resources – perfect for Halloween but also all other times of the year!
And Viv herself is doing lots of events in schools and bookshops around the UK – so keep an eye out!
You can borrow Lottie Luna and the Bloom Garden from all good libraries, and buy it from all good bookshops – or on-line here.