Did you know that long ago Scotland was buried under a layer of ice one kilometre thick? Or that Orkney's neolithic village, Skara Brae is older than the Great Pyramid in Egypt? Or that the soldiers of Robert the Bruce disguised themselves as cows in order to take   back Roxburgh Castle?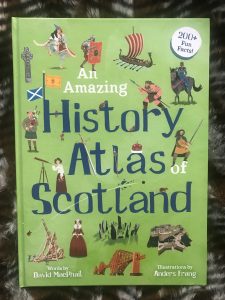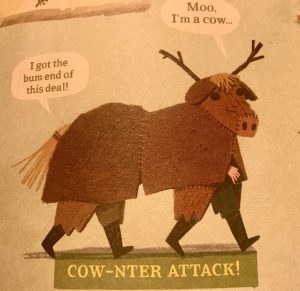 You can discover all these amazing facts and much, much more in An Amazing Historical Atlas of Scotland published this week by Discover Kelpies (Floris Books), written by David MacPhail and illustrated by our very own amazing Danish illustrator, Anders Frang.
'An Amazing Historical Atlas of Scotland' is the third 'Amazing Atlas of Scotland' title illustrated by Anders and it looks set to emulate the success and popularity of 'Animal Atlas' and 'Atlas of Scotland'. The winning combination of David's lively informative text and Anders' vibrant, detailed, witty illustrations bring Scotland's colourful history to life in a way that appeals to all ages.
Anders illustrated the first two 'Amazing Atlas' titles while he was living in Edinburgh and now that he is based back in Denmark his fascination with all things Scottish remains undiminished. He particularly enjoyed illustrating some of Scotland's more outrageous historical characters such as the ruthless Kenneth McAlpin, the first king of Scotland, who was said to have done away with his Pictish rivals by inviting them to dinner, then used collapsible benches to drop them into a pit of sharpened stakes! Or that murderous duo Burke and Hare…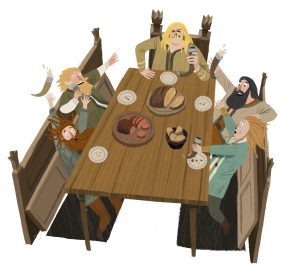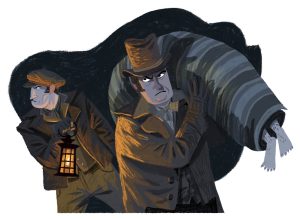 There are plenty of lighter and more enlightening moments in Scotland's history too, of course! Look out for Anders' depiction of Mary Queen of Scots playing tennis in men's breeches, Bonnie Prince Charlie's hairy legs, biologist Alexander Fleming in his holiday togs as he discovers penicillin and the surprising invention of chicken tikka masala! And the endpapers are glorious riot of places, people and events throughout the ages in Scotland.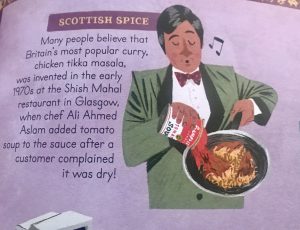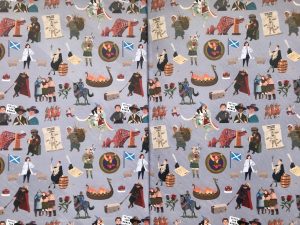 An Amazing Historical Atlas of Scotland (published by Discover Kelpies) is available from all good bookshops and libraries, or you can order it online here