'I do like a bit of Ancient Egypt…'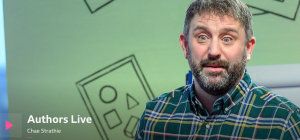 Go to the BBC website – here – to hear Chae Strathie talking about being a writer, why he loves history so much, researching his subjects and imagining the lives of the children he's describing back in different historical periods.
In this Authors' Live event, Chae is interviewed by BBC Scotland's Janice Forsyth before he's let loose on a live audience from Balmulloch Primary School, together with a remote audience of thousands. Topics are many and varied – just the kinds of historical facts that children love.
Chae's the author of the wonderful 'So You Think You've Got It Bad…' series, illustrated by Marisa Morea and published by Nosy Crow.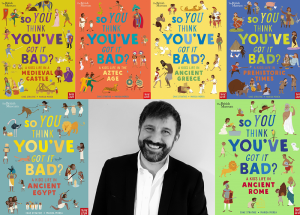 Collect the lot!
So You Think You've Got It Bad…
You can buy copies in your local bookshop, borrow them from your local library or buy them online by clicking on the links below:
A Kid's Life in a Medieval Castle
A Kid's Life in Ancient Greece
A Kid's Life in Prehistoric Times