Congratulations to Vivian French and Hannah Foley – their gorgeous new picture book, How Billy Hippo Learned to Swim is published!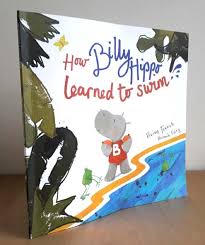 Vivian has written around 300 books for children, and her sales world-wide are in their millions. This is Hannah's first picture book. The first of many, we're sure.
It was Alan Windram at Little Door Books, an energetic new independent publisher, who recognised the potential of pairing Vivian and Hannah and the result is a delight. Hannah clearly enjoys Vivian's sense of humour and strong characterisation, as you'll see from these early colour roughs.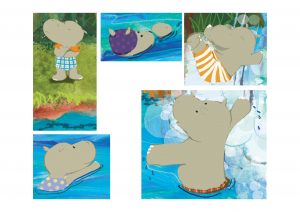 As in all the best picture books the illustrations share the responsibility for telling the story. (Clue: look out for the frogs…)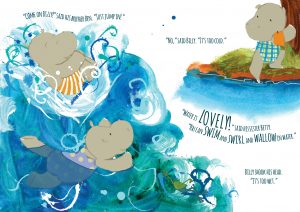 Hannah has created some downloadable activity sheets based on the characters in the book on her website – you'll find them here. They include instructions on how to make the funkiest looking frog! Hannah loves frogs. You'll also find early sketches on her blog here – Hannah's blog is always worth a visit.
You can buy How Billy Hippo Learned to Swim on-line here, or at your local bookshop, or borrow it from your local library.