So you think you've got it bad? Well, award-winning author, Chae Strathie and illustrator, Marisa Morea are here to tell you that you really don't – not compared with a kid living in Ancient Egypt anyway!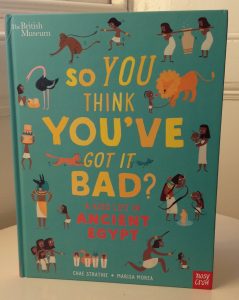 'So You Think You've Got It Bad?' is a splendid new non-fiction series from Nosy Crow in collaboration with the British Museum and the first title, A Kid's Life in Ancient Egypt has just been published. It's also Chae Strathie's first non-fiction book and it's as fabulously funny and incredibly informative as you would expect.
SYTYGIB is aimed at 5-8 year-olds, but will almost certainly be 'borrowed' by older brothers and sisters, mums, dads, grans, granddads, teachers… In fact, anyone who wants to laugh and learn simultaneously!
 And it looks great.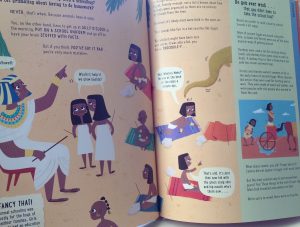 You can buy So You Think You've Got It Bad: A Kid's life in Ancient Egypt here  Or at your local bookshop or borrow it from your local library.