L.J. (Liz) MacWhirter was born just outside London, grew up in the North West and now lives in the Scottish Borders with her husband. Black Snow Falling, an Elizabethan fantasy, is her debut YA novel, published by Scotland Street Press for readers of all ages 11+. Its listings and nominations include the 2019 CILIP Carnegie Medal. Liz is currently writing her debut novel for adults, a hybrid verse narrative, within a creative practice PhD at the University of Glasgow. Her work has been recognised with funding from Creative Scotland, Publishing Scotland, University of Glasgow Research Support Awards, the Medium Aevum Fund at the University of Oxford, and Yale Institute of Sacred Music who funded a performance of her poetry.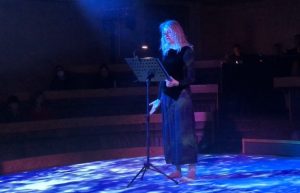 An early version of 'Blue: a lament for the sea' was performed at Hidden Door Arts Festival 2022. She also still writes creative and long copy for clients and ad agencies as an award-winning freelance copywriter.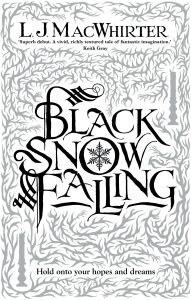 Black Snow Falling draws on Liz's fascination with psychology, the inner workings of minds and mechanical machines, and how people can be controlled by culture. It's about staying fixed or spinning out. 
"As a child, my dad, an engineer, introduced me to science and the vast machines of the industrial revolution around Manchester. On a trip to Florence many years later, I saw a mechanical Armillary Sphere, made for the Medicis in the 1500s, which embodied the long-held belief that the earth was at the centre of the heavens. Early science, in opposition to this dominant view, was cast as heresy. Together with the monstrous sexism of the time, it became the setting for this story about a spirited girl, Ruth. Making her privileged exposed the sexism of the time, as she has absolutely no rights and can be treated as property. She has so much to lose when forces move against her.
I think that stories which go beyond reality and use myth help meet that need in us to explain how things can go so wrong, to articulate unspeakable things. Young people today are still fighting the same 'monsters' as Ruth. All that's changed is the wallpaper."
Praise for Black Snow Falling
"… As darkness descends [Ruth] is forced to confront her deepest fears and the possibility that she may not have been dreaming after all. The world-building in this book is exquisite, from the finely textured tapestries to the deadening blackness of the ship of shadows… It's a tale which will haunt readers' dreams long after the final page." 
The Scotsman
"There is action, betrayal, love and a powerful spiritual element running throughout the book…"
The Oban Times
"A wildly original Elizabethan fantasy, steeped in atmosphere and dark beauty. Deliciously creepy." 
Elizabeth Wein, award-winning author of Code Name Verity. 
"For a novel of such breathtaking imagination, Black Snow Falling also has a deep sense of history and its characters are satisfyingly complex. It's rare to find all three at once, let alone fused together so effectively, and in all my time as The Scotsman's books editor (15 years and another 10 as deputy) I don't think I ever have.  I recommend it highly."   
David Robinson, Literary Critic
Liz launched Black Snow Falling at events at the Edinburgh International Book Festival and local independent bookshop, The Golden Hare. She is registered with Live Literature – you can find out how to book her for events in festivals, schools and libraries here.
Black Snow Falling can be ordered from Blackwells, Waterstones, and Toppings.
Liz's debut novel, Black Snow Falling, published Summer 2018 by Scotland Street Press.