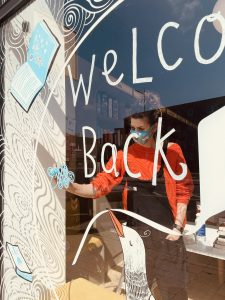 It's great to see bookshops reopening – how we have missed browsing bookshop shelves, eavesdropping on other readers' enthusiasms (and criticisms!) and asking advice of booksellers.
Congratulations to all the booksellers who have worked so hard to keep customers supplied with great reads during the period of lockdown.
The Portobello Bookshop invited Eilidh Muldoon to paint their window to celebrate their opening – and her new book, the Colouring Book of Coastal Scotland) published by Birlinn, available at all good (and open!) bookshops now.