Congratulations to Alexander McCall Smith and illustrator Iain McIntosh on their latest collaboration TINY TALES – published by Polygon and out now.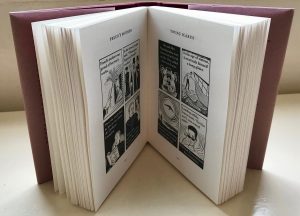 It's a collection of 30 short, short stories and 30+ pin-sharp graphic strips exploring romance, ambition, kindness, happiness and much much more. All human and animal life is here – in miniature!
Iain McIntosh has illustrated many of McCall Smith's books over the years including the 44 Scotland Street series, the No. 1 Ladies' Detective Agency series and for younger readers, the thrilling School Ship Tobermory series. TINY TALES is a handsome production, small and perfectly formed and each strip cartoon is a little gem of observation and subtle humour.
You can buy Tiny Tales from you local bookshop, borrow it from you local library or order it online https://www.hive.co.uk/Product/Alexander-McCall-Smith/Tiny-Tales/24954604   Go on! Give yourself a treat!